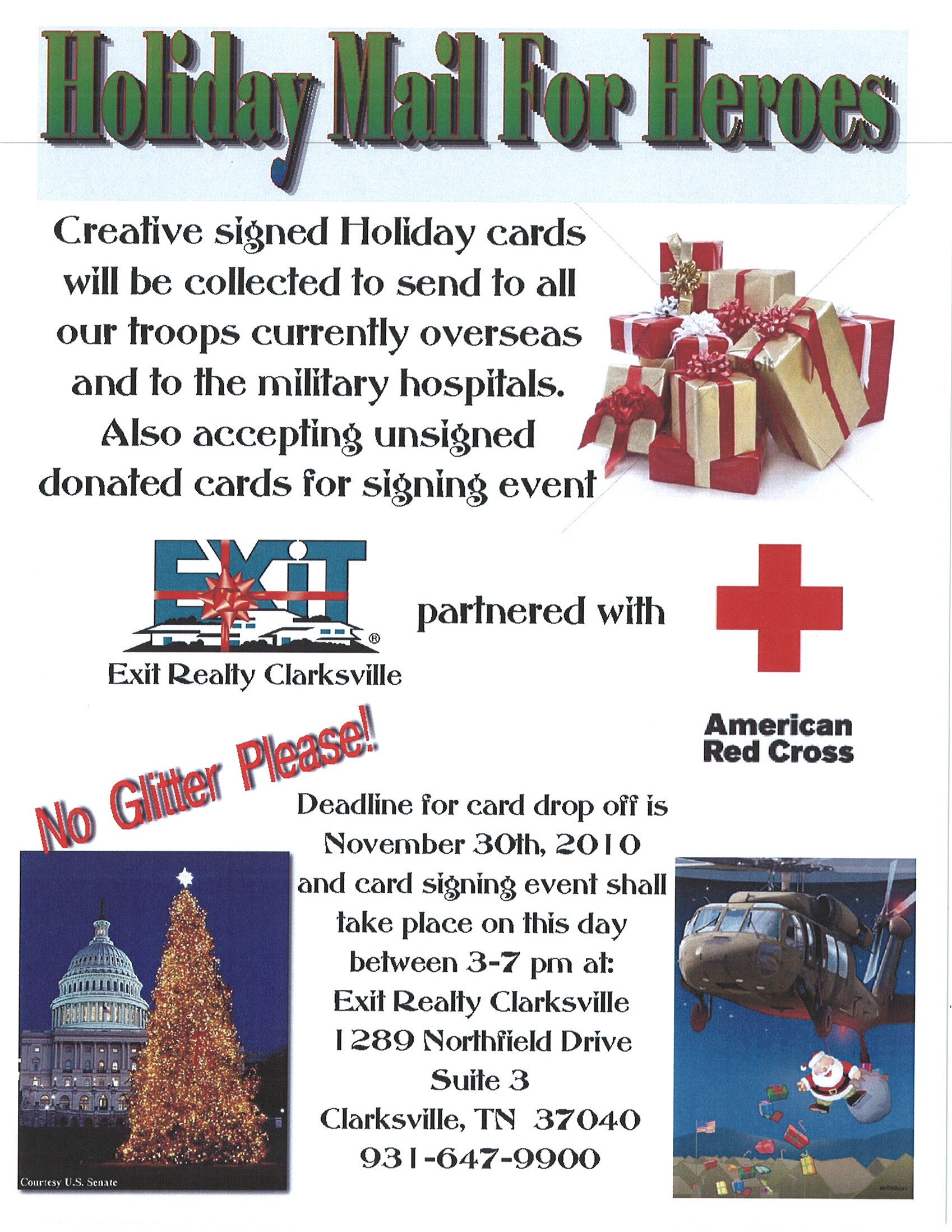 The Holidays are almost here. This is a great time to spend with family and friends. Some times this is not always possible as our soldiers who are in a land far away protecting our freedom. Exit Realty has teamed up with the American Red Cross this year to show our troops that we do care and appreciate what they are doing to protect our country. Holiday Mail for Heroes Makes a Difference.
There will be a drop box at Exit Realty Clarksville ( 1289 Northfield Dr. Ste 3 Clarksville, TN 37040 ) along with other Exit Realty offices to collect these letters.
See the press release below:
FOR IMMEDIATE RELEASE Contact: Jean Marie Grumbles CEO EXIT MidSouth 615-523-3133 JeanMarie@ExitMidSouth.com Holiday Mail for Heroes Makes a Difference EXIT Realty Hosts Drop Off Locations: Franklin, TN (Grassroots Newswire) November 4, 2010 -- The Holidays are when we usually spend time with our families but for our military it is not usually possible. The Holiday Mail For Heroes Program through the American Red Cross allows a "touch of home" for all the men and women serving over the holiday season. The community is asked to sign a card with cheer and good wishes for service personnel and deliver them in an envelope, no postage necessary, to your local EXIT Realty offices. EXIT Realty will then ship the cards to a Pitney Bowes sorting center where the cards will then be sent to military bases and hospitals, veteran's hospitals and other locations. The American Red Cross requests no glitter on the cards please. This initiative allows anyone in the community an opportunity to support all our men and women who have provided and continue to provide the freedoms we enjoy on a daily basis. However small "just a card" may seem, it will put a smile on the faces and in the hearts of our service personnel. For more information about EXIT MidSouth, please call 615-523-3133. EXIT MidSouth is located at 1441 New Hwy 96 West, Suite 2-81, Franklin, TN 37064. # # #
**************************************************************************************
Think Clarksville * Think Fort Campbell * Think Real Estate * Think Roland
Licensed in both Tennessee & Kentucky. Please don't keep me a secret, if you know anyone looking to BUY or SELL, Please send me their contact informtion and give them my name and number.
View my website at Clarksville Home Information or Fort Campbell Housing
 Roland Woodworth is a member of NAR's Short Sales & Foreclosure Resource
Roland Woodworth, REALTOR ® Q Realty
Call: 931-320-9411
E-Fax: 866-596-2172
Clarksville TN Homes For Sale, Clarksville TN - Roland Woodworth, REALTOR
I specialize in helping families relocate to and from the Clarksville, TN and Oak Grove, KY - Fort Campbell, KY and the surrounding areas. I have the tools to market your Home For Sale including New Construction, Short Sales, Foreclosures, Distressed Properties. I'm a US Army Verteran still serving the Clarksville, TN amd Ft Campbell, KY area. Looking to sell your home,give me a call at 931-320-9411
TN Lic # 273649  -  KY Lic # 57120
Q Realty
1812 Memorial Circle. Clarksville, TN 37043
Each Office is Independently Owned & Operated
**************************************************************************************