Don't miss LIVE MMA CAGE FIGHTS in Clarksville on November 20th, 2010
The SSF Invitational: Vindication ssf22 is set to take place at The National Guard Armory - 1801 Ft. Campbell Blvd. Clarksville, Tennessee. The event is set to kick off at 7:00 pm. This is one that you will not want to miss. Plan to be there early and get a great seat.
The after party will be at the Warehouse. Discounted entrance with your wristband from the fight.
Gates open at 6:00 PM
Tickets: General Admission $20 - VIP Seating $30
See the Fight Card below
In addition to the fight - You will not want to miss Slapfest 2010. - Slapfest is a 4-man Pankration tourney. We have 4 great MMA fighters from across the state participating! It's gonna be
so awesome!!!! And, the winner gets a big ole belt buckle that says
Slapfest 2010 Champ!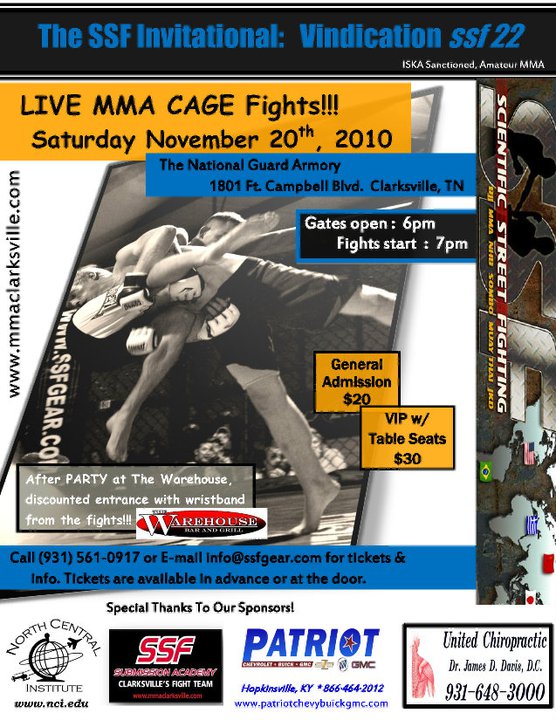 Don't miss SSF's next event, we always have a great time!!!
SSF's own Yannick Jones vs Sonny Lopez for the 155 title! Lopez currently holds the belt, but Jones is looking to bring the title home!
...
Plus many more great fights on the card!
Doors open at 6pm and the fights start at 7pm.
General Admission is $20 and VIP table seats are $30.
Call (931) 561-0917 for more information, tickets, and directions.
See you there!!!
FIGHT CARD! (subject to change)
205.00 Brandon Ward vs Daniel Harris
155.00 Kenneth Newby vs Cody Wall
185.00 Jacob Leveque vs Vasya Mellenchi PMA
135.00 Xavier Hill Team Rage vs Denny Maynard PMA
145.00 Thorne Faught Death Squad vs Jose Amador Team Rage
155.00 Derrick Musgrove Remix MMA vs Christian Dye
155.00 Stephen Wyatt Death Squad vs Marcus Hoehn Thoroughbred Wrestling
205.00 Logan Barber Team Rage vs Dustin Koppel PMA
315.00 Jerome Robinson Team Rage vs TBA
290.00 Ray Smith vs Brent Johnson Valdosta Martial Arts
125.00 John Carroll (Paco dela Hoya) vs Nathan Lindsey
135.00 Andrew Sablan vs Michael Graham SSF
155.00 Sonny Lopez Team Rage vs Yannick Jones SSF (155 Title Fight)
**************************************************************************************
Think Clarksville * Think Fort Campbell * Think Real Estate * Think Roland
Licensed in both Tennessee & Kentucky. Please don't keep me a secret, if you know anyone looking to BUY or SELL, Please send me their contact informtion and give them my name and number.
View my website at Clarksville Home Information or Fort Campbell Housing
 Roland Woodworth is a member of NAR's Short Sales & Foreclosure Resource
Roland Woodworth, REALTOR ® Q Realty
Call: 931-320-9411
E-Fax: 866-596-2172
Clarksville TN Homes For Sale, Clarksville TN - Roland Woodworth, REALTOR
I specialize in helping families relocate to and from the Clarksville, TN and Oak Grove, KY - Fort Campbell, KY and the surrounding areas. I have the tools to market your Home For Sale including New Construction, Short Sales, Foreclosures, Distressed Properties. I'm a US Army Verteran still serving the Clarksville, TN amd Ft Campbell, KY area. Looking to sell your home,give me a call at 931-320-9411
TN Lic # 273649  -  KY Lic # 57120
Q Realty
1812 Memorial Circle. Clarksville, TN 37043
Each Office is Independently Owned & Operated
**************************************************************************************